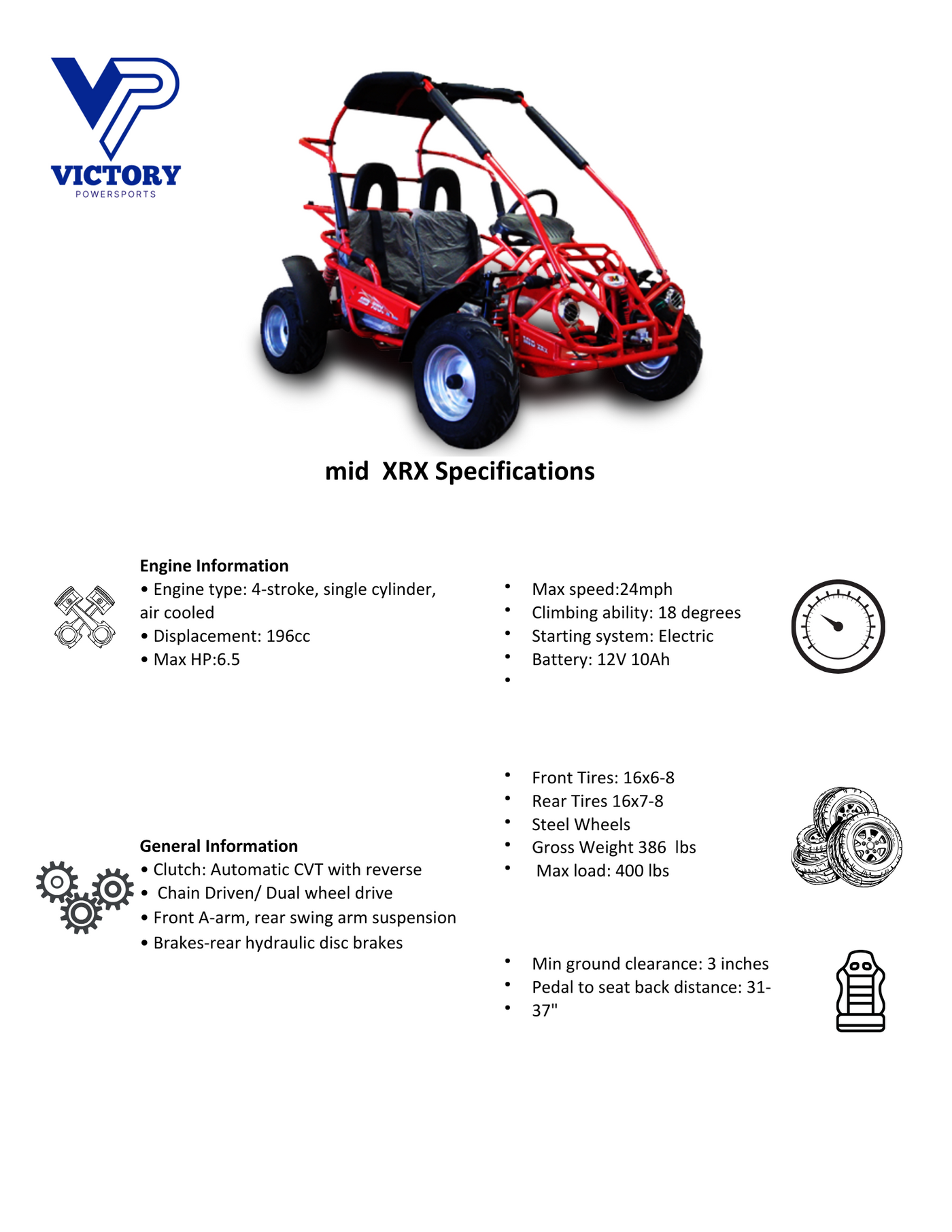 Trailmaster Mid XRX-R Go Kart
Introducing the Trailmaster Mid XRX-R: our all-time best selling go kart for all ages!
Key Features:
6.5 hp Honda clone style engine
Adjustable Driver's Seat
Front Spindle and Strut/ Rear Swing Arm Suspension
Electric Start with Pull start backup
12 month warranty/6 months labor
The ultimate off-road go-kart that's redefining the adventure game! Experience the thrill of a lightning-fast electric start powered by a reliable 6.5hp engine that propels you to a heart-pounding top speed of 24 mph. Conquer any terrain with ease, thanks to its large tires and an impeccable suspension system that ensures a smooth and exhilarating ride every time.
What sets the Trailmaster Mid XRX-R apart is its unwavering commitment to quality and safety. Equipped with a range of top-notch safety features, you can ride with peace of mind. The adjustable driver's seat ensures a perfect fit for all ages and sizes, while the sturdy construction and responsive brakes make sure you're in complete control. A full roll cage of thick steel tubing, side panels to protect from flying debris, and a canopy top to keep the sun off.
With the spacious cockpit and adjustable driver's seat, almost anyone can drive it. We've put a 7 year old in the drivers seat to enjoy his first ride, but we can also get most adults in the driver's seat to ride their kids around!
But the awesomeness doesn't end there. When you choose the Trailmaster Mid XRX-R from Victory Powersports, you not only get a thrilling ride but also the assurance of a 1-year warranty, offering unmatched protection and support.
Don't miss out on the opportunity to own a Trailmaster Mid XRX-R - the go-kart that combines power, safety, and exhilaration. Unleash the adventurer in you and experience off-road excitement like never before. Your journey to epic off-road escapades begins with the Trailmaster Mid XRX-R from Victory Powersports. Get ready to rev your engines and embrace the thrill!