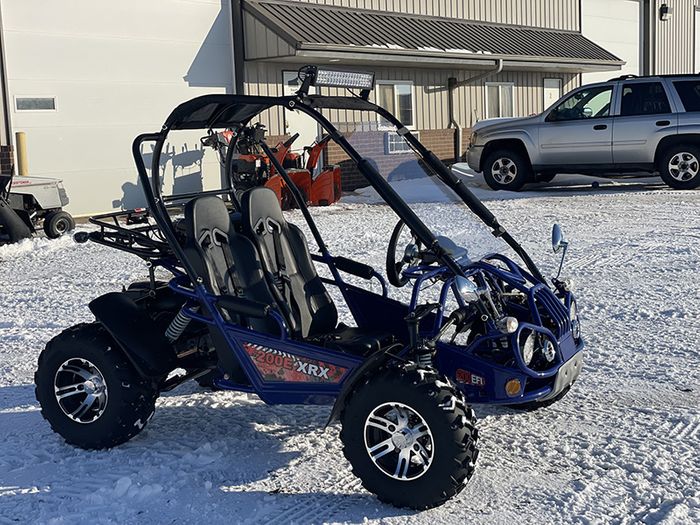 About Our Small Engine Repair Shop
Southeastern Small Engine is a small engine repair shop located in Sioux Falls, South Dakota. Our team is made up of dedicated individuals with an abundance of knowledge in the industry. Our technicians are often referred to as "jacks of all trades". They have considerable experience in the realms of small engine repair, HVAC systems, camper repair, Powersports, and so much more. Their collective knowledge is the driving force behind the quality services we provide to our customers.
Meet Some of The Team
Within our dedicated team, we have standout members who bring not only extensive experience but also an undeniable passion for the outdoor power equipment industry.
Kim is one of our dedicated and valued team members. She has been a part of the go-kart industry for over thirty years. Her journey began at the age of two when she received her very first go-kart. It's safe to say that her love for go-karts runs deep.
Scott is another integral part of our team. His relationship with Trailmaster go-karts began when he was about fifteen years old. Since then, he has not only been riding go karts but also actively involved in assembling and servicing them.
While these are just two of our team members, we have other diverse team members who share a passion for outdoor power equipment and are committed to delivering exceptional service to our valued customers.
About Southeastern Mobile RV Repair
Southeastern Mobile RV Repair is the premier RV mobile repair company servicing in southeastern South Dakota. If you need your camper fixed and you are within a two-hour radius of Sioux Falls, you can count on us to bring our expertise to you. Whether your camper requires extensive repairs or minor fixes, we have the capabilities to handle it all. Our technicians are proficient in all of the skills needed to service every system of your RV with precision and skill.
Our Extensive RV Repair Services
At Southeastern Mobile RV Repair, we provide a wide range of services to meet all your RV repair and maintenance needs. Below are some of the most common RV repairs and issues that we can help you navigate:
RV Roof Repair: Repairs related to fixing leaks, tears, or damage to RV roofs.
Plumbing Issues: Repairs on plumbing include fixing water leaks, unclogging drains, repairing faucets, Winterization treatments, and troubleshooting problems with the water pump. This includes gray, black, and freshwater tanks.
Electrical Problems: Solutions for issues with RV electrical systems, such as faulty wiring, non-functional outlets, and problems with appliances.
Appliance Repairs: Minor and major issues with refrigerators, stoves, ovens, microwaves, and air conditioning units.
Tire Maintenance and Replacement: Changing or repairing tires, along with proper tire, wheel, and axle maintenance to prevent blowouts.
Battery Problems: Diagnosing and resolving problems with RV batteries, whether it's a house battery or the vehicle's starting battery.
HVAC (Heating, Ventilation, and Air Conditioning): Solutions for issues with heaters, furnaces, air conditioners, and ventilation systems.
Water Heater Troubleshooting: Addressing problems with ignition, heating elements, or temperature control.
Slide-Out Repairs: Guidance on fixing problems with slide-out rooms that extend the living space, such as getting stuck, falling off the tracks, motor malfunctions, roof leaks, floor damage, seal repairs, and more.
Awning Repairs: Common tasks fixing or replacing awnings that provide shade and shelter outside the RV. We can replace the fabric, the arms, or the entire awning.
Propane System Issues: Assistance with propane-related issues, including gas leaks, regulator issues, and appliance connections.
Sewer and Holding Tank Maintenance: Tasks such as emptying and cleaning wastewater tanks and dealing with clogs or odors.
Brake and Suspension Repairs: Information on maintaining and repairing brakes, wheel bearings, shocks, and suspensions is valuable for RV safety.
Exterior Repairs: Solutions for dents, scratches, and other exterior damage, including fiberglass and siding repairs.
Interior Upgrades: Services to renovate and update the interior of the RV, including flooring, upholstery, and cabinetry.
Generator Troubleshooting: Assistance with diagnosing and repairing problems with onboard generators by our master small engine staff.
Solar Panel Installation and Maintenance: Information about installing and maintaining solar panels, catering to this growing interest among RV owners.
Satellite and Entertainment Systems: Setting up and troubleshooting satellite TV, Wi-Fi, and entertainment systems in RVs.
Winterization and De-Winterization: Guidance on preparing your RV for winter storage and the steps to de-winterize it for use, including our cleaning service and antifreeze flushing.
General Maintenance Tips: General maintenance advice, such as lubricating moving parts, sealing seams, and checking safety systems.
Work With Us
If you're in search of any of these repairs on your travel trailer, 5th wheel, RV, or horse trailer with living quarters, Southeastern Mobile RV Repair can provide the best solutions. Our team is dedicated to ensuring your RV is in optimal condition for your next adventure. Contact us today to schedule your service appointment!