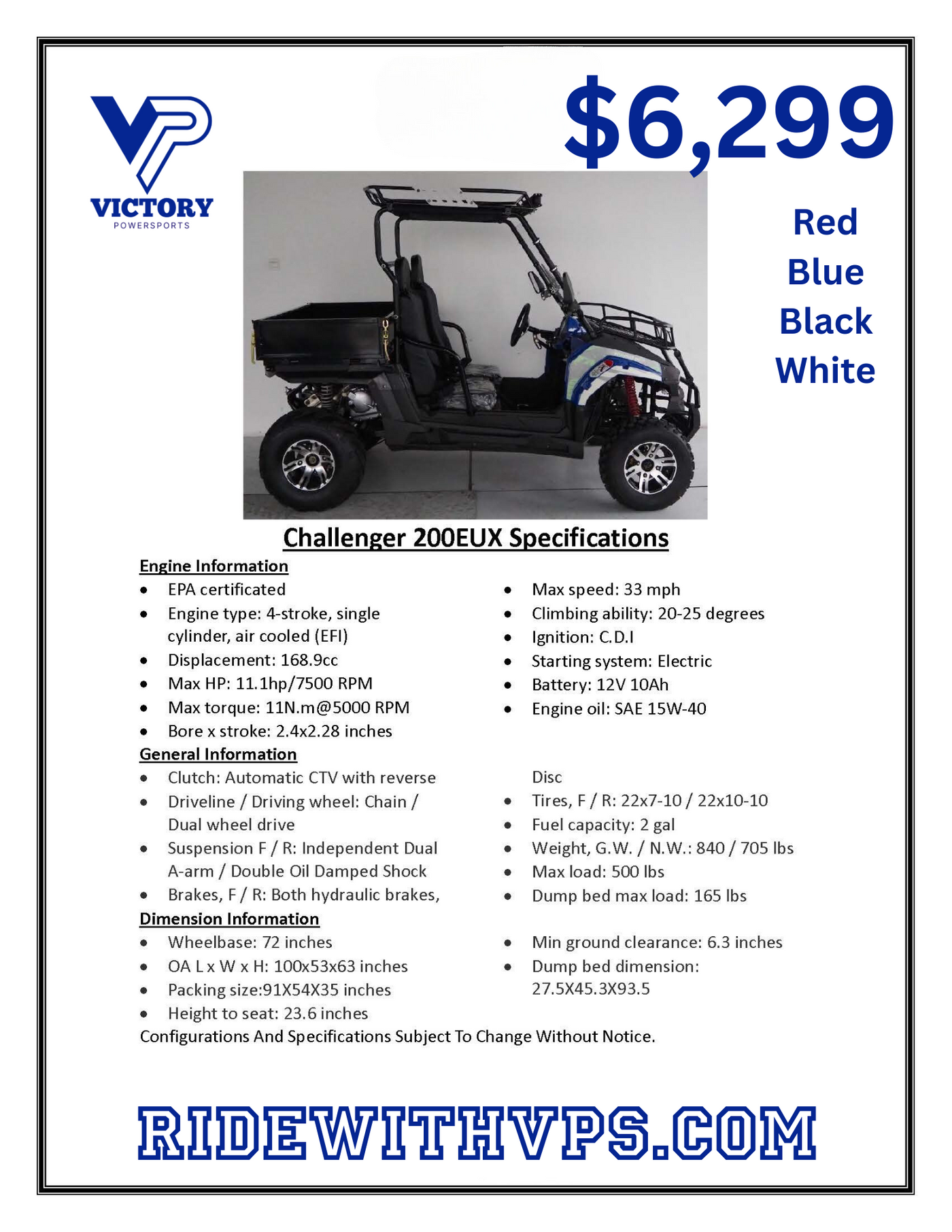 Trailmaster Challenger 200 EUX Youth UTV
Calling all adventure-loving teens! Get ready to unlock a world of unstoppable fun with the Trailmaster Challenger 200EUX – the ultimate off-road go-kart designed to fuel your wildest dreams! Whether you're revving up for an adrenaline-pumping joyride or gearing up for some serious off-road work, this go kart is your go-to choice. Picture yourself tearing through rugged trails, conquering challenging terrains, and feeling the rush of power. With Trailmaster go karts, you're not just buying a go kart; you're igniting an adventure that knows no limits.
But wait, there's more! The Trailmaster Challenger 200EUX is more than just a thrill machine; it's your versatile companion for both work and play. Imagine transforming your go-kart into a powerful utility vehicle, ready to tackle tough tasks around the yard or farm. From joyrides to chores, this UTV delivers the perfect blend of excitement and productivity. So, teens, if you're ready to redefine your off-road experience, it's time to jump in the driver's seat and own the trails with the Trailmaster Challenger 200EUX.
The TrailMaster 200EUX UTV is the perfect size utility vehicle for an older kids and adults to drive! This rugged UTV is perfect for all kinds of offroad fun and a little bit of work too! A side-by-side that provides a comfortable ride with a focus on reliability, safety and value. It is equipped with a full roll cage and seating for two. This perfectly-sized, compact UTV gives kids the option of having their own utility vehicle. This utility vehicle features a smooth running EFI GY6 engine, which is an upgrade from the previously offered 150 size. The EFI makes for easy starting in cold weather, no need to worry about cranking at high altitude, and has elimated the mainteneance issues that arise with a carburetor engine. The four- stroke engine with a automatic transmission and reverse gear are stout and durable.
This Trailmaster Challenger 200EUX boasts all the amazing features of the Challenger 200EX with the addition of a wrok bed that folds out flat. Equipped with a top cargo rack, utility bed and front hood rack, thie Challegner can haul anything and everything you need to move around with ease.
Front independent A-arm suspension with heavy duty shocks and rear swing arm suspension with heavy duty shocks make for a smooth ride in this machine. Standard on this machine is a speedometer, odomoter, adjustable steering, 12v outlet, canopy top, side nets, tow hitch, and both front and rear disc brakes.
The "X" in the model name stands for deluxe, which means it includes all the extra features:
alloy wheels
LED light bar
windshield
awesome graphics
front steel bumper