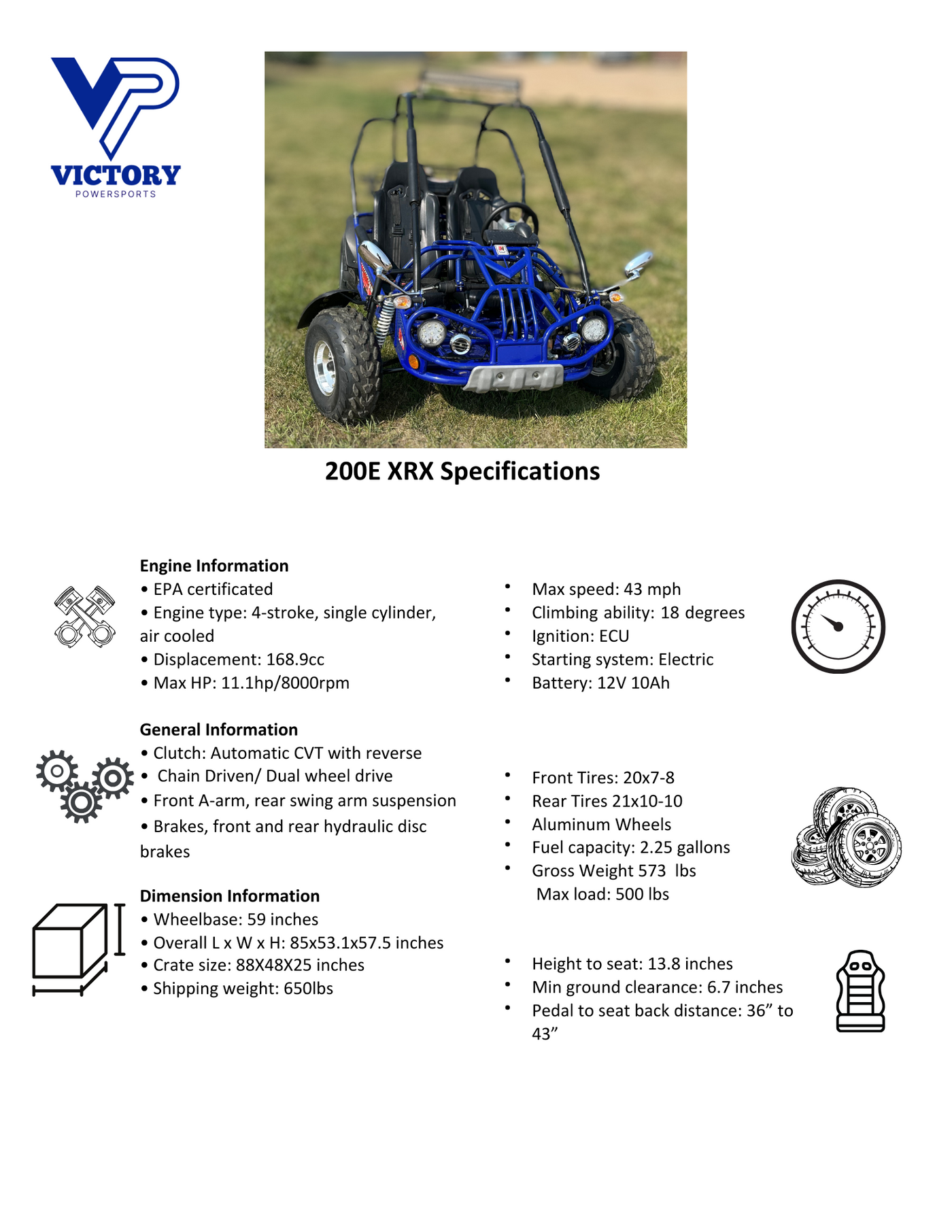 Trailmaster 200XRX EFI Adult Buggy
The 200E XRX is the same great kart as the XRS model with some awesome upgrades. With so many exciting features, this kart is ready for your next big family adventure! Whether you're tent camping out in the wilderness, enjoying a week at the RV park, or just taking a day to go ride some trails, this kart will take you on the most exhilarating ride and help you create long lasting memories.
Full size, comfortable bucket seats from ultimate comfort and all day riding, paired with and adjustable driver's seat are designed to allow teens and adults of all sizes to enjoy this kart. A first time go kart driver can operate the machine with no problem with its fully automatic transmission. Then mechanics of this kart are second to none with an internal reverse gear setup, high performance electronic fuel injected engine, a live axle with dual wheel drive, and heavy duty suspension.
Easy to crank with electric start. Simple to steer with rack and pinion steering and a great turn radius. This kart comes ready to drive both off road, and on the street ( if that's legal where you live), with headlights, turn signals, mirrors, 5 point safety harnesses, and more. The heavy duty suspension makes for a smooth ride and the ability to take your kart across nearly any terrain.
For long trips, hauling, or working around the farm, this kart also has a large rear utility rack, a tow ball hitch for trailers, and oversized knobby tires. You can move boats, haul yard debris, and even strap down all your camping gear for a weekend adventure in the woods.
Plus:
Polished Aluminum Wheels
Digital Speedometer/Odometer
Top Light Bar
Front & Rear Turn Signals
Sports Steering Wheel
Trailmaster 200 XRX EFI Offroad Go Kart